The UK personal motor market returned to underwriting profitability in 2013 for the first time in at least a decade, but this position is deemed unsustainable without price increases writes Saxon East and Ben Dyson from the Insurance Times
Personal motor rates should start rising again in the second half of 2014 as the recent round of price cutting starts to hit insurers' results.
That is the message from industry experts and market commentators after a difficult year for motor insurers.
The talk comes despite the UK personal motor market as a whole returning to underwriting profitability in 2013 after at least a decade of losses. Figures from accounting firm Deloitte show that the market reported a combined operating ratio (COR) of 99.4% for the year.
But underlying profitability, excluding prior-year reserve releases, worsened because of the price war.
Online broker IGO4 commercial director Karen Hogg says: "It is hard for me to see how, when the premiums have dropped so significantly, insurers can still expect to achieve the same results in what is already a very difficult market to make money."
Lloyd's motor insurer ERS commercial director Sam Hudson adds: "Everyone has reported rates coming down. You only have to look at most companies' CORs to see that it can't last forever."
No big fall in claims
Rates fell sharply in the past year as insurers anticipated the effects of legal reforms as well as anti-fraud and pricing technology. The Towers Watson/Confused motor price index shows that rates fell by 27% since the Legal Aid, Sentencing and Punishment of Offenders Act 2012 (Laspo) was introduced in April 2013.
Although insurers used the reforms and technology improvements to justify the cuts, there is little evidence of a big reduction in motor claims.
The average cost of settling a personal motor claim in Q1 2014 was £2,701, according to the ABI, compared with £2,605 in the same quarter last year.
And there were 731,000 claims in the first quarter of 2014, compared with 790,000 in last year's first quarter. There have been casualties already. RSA plans to drop 800 personal motor brokers to restore profitability to its book after 2013's 111.7% personal motor COR.
Ageas UK, one of the few UK-based insurers to give a breakdown, saw its motor COR worsen to 101.6% in the first quarter of 2014 from 99.6% in the first quarter of 2013.
Some companies are taking action. Motor insurance group Hastings chief executive Gary Hoffman says his firm has made "selective small price increases". But most expect concerted efforts in the second half of the year.
Deloitte insurance partner James Rakow says: "If the industry doesn't start to increase premiums, the overall results that we will see in 2014 and beyond could decline.
"We would see the likelihood of premiums going up being quite strong at some point in the latter half of the year." Deloitte's figures show why action is needed. The 2013 underwriting profit was caused by reserve releases, which cut the COR by 9.9 points.
Without the releases, the COR would have been a much less flattering 109.3% – in turn 0.8 points worse than 2012's underlying COR of 108.5%.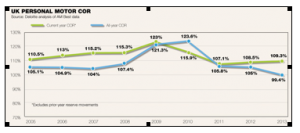 Rakow adds: "The direction is now pointing towards a challenge for the industry to maintain profitability."