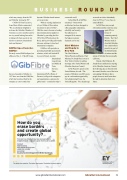 BUSINESS ROUND UP
which may emerge from the UK and Gibraltar leaving the EU".
COBCOE Chief Executive, Anne-Marie Martin commented: "We are absolutely delighted to welcome the Gibraltar Chamber of Commerce as new members and we are very much looking forward to working with them as part of our mission to promote international trade and business."
GibFibreSpeed launches GibFibre Privately owned GibFibreSpeed, an offshoot of the A. J. Sheriff Group,
that was founded in Gibraltar in 1927 have now launched GibFibre, which has been described by the company as a new stand alone
dynamic Gibraltar based internet service provider.
With an existing deployment of over 100km of fibre and an investment to date of £10m+, GibFibre aims to become a leading telecommunications supplier in Gibraltar by providing the first 100% fibre ISP network on the Rock, and by providing tailor-made telecoms solutions to local and international companies.
GibFibre will specialise in providing bandwidth and network solutions, which will include IP Access & Transit, Local &
International Leased Lines and Media & Voice Services. Their
International PoPs (Points of Presence) will provide companies and organizations a gateway for global reach – essential in today's
connected world. Julian Sheriff, at GibFibre
remarked: "Our network architecture has been designed to offer geographic redundancy, reliability and security. Our adherence to stringent SLAs ensures the highest customer demands can be met."
Chief Minister and Deputy in New York The Chief Minister, Fabian Picardo and Deputy Chief Minister, Dr Joseph Garcia were in New York in October to address meetings at the United Nations and Gibraltar-American Council.
In Mr Picardo's speech to the United Nations, he said: "The people of Gibraltar voted fifty years ago in a referendum organised by the Administering Power, the United Kingdom. Five decades ago
we made our choice abundantly clear, by 99% to 1% we chose to remain British".
In 2002 there was second referendum and the result was once
again 99% in favour of remaining entirely British. The Chief Minister made it clear that Gibraltar was a nation that is proud to be part of the British family of nations and the
nation of Gibraltar that we proudly call home.
Deputy Chief Minister, Dr Joseph Garcia addressed a meeting at the Gibraltar-American Council the following day, in which he told the council, that the core of the issue surrounding Gibraltar is that a people, however small, must have the right to determine their own future.
How do you
erase borders
and create global
opportunity?
Find out how international tax and operations insights helped a company grow from local to global.
Contact Neil Rumford neil.rumford@gi.ey.com +350 200 13 200 ey.com/gi ey.com/acceleratinggrowth #BetterQuestions
www.gibraltarinternational.com	Gibraltar International	29
© 2015 EYGM Limited. All Rights Reserved. ED None.