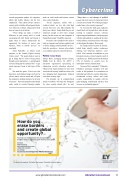 Cybercrime
towards programme updates for computers, tablets and mobile 'phones, but De Vere emphasised: "They almost always contain a security patch to further defend against hacks, even when the software enhancement listed may not seem to be of interest.
"These things can make a world of difference to your security and it is worth encouraging all staff, family and friends to apply them to reduce dramatically the opportunity for hackers to access your business, home or mobile devices", he concluded.
Jenny Radcliffe, an ethical social engineer, at the London Digital Security Centre, noted: "The people hackers want to get at things that we want to keep private through social engineering – a psychological tool used alongside the technical tool – to get inside someone's brain to take logic off the list."
She made the point: "I have seen, first hand, how easily human beings can be led to talk too much, trust too much and will open the company to [online] attackers, for all sorts of reasons". Personal and professional details easily could be revealed through remarks
made on social media and business contact	"Today there is a real shortage of qualified
sites, such as Linkedin. "Social engineers, unlike with a
technical attack, are low risk with high reward; they leave very little footprint, but always are a threat.	People think they are not important enough or don't have enough money, but the easiest way into companies is though their people", Radcliffe cautioned.
Presenters also reminded of the need to back up computers and systems regularly, and to always unplug external portable devices – hard disc, pen drives - because cyber attacks on a computer spread to connected devices.
Follow easy steps
Adrian Davis, managing director Europe, Middle East & Africa, for (ISC)2, a non-profit organization specialising in information security education, observed: "Many of the major incidents we have been involved with recently would have been a lot less damaging had organisations followed some basic security steps."
The dramatic rise in computer-based attacks worldwide "will open the floodgates for cyber security–related jobs", he said.
people and more need to be trained given that a recent survey found 70% of hiring managers needed more cyber security personnel."
To overcome the skills gap, employers should look well beyond those with obvious training in computer sciences, software engineering and mathematics, and spot people with the right aptitude to working in the cyber world, and they could come from a wide range of educational disciplines, Davis urged.
Ian Trump, head of security at Zonefox. which helps identify insider weaknesses utilising 'user behaviour analytics', coun- selled: "Don't mistake a breakdown in your [internet] system as always being the result of a malicious act.	IBM research has shown that 95% of breaches in security were by individuals with no criminal intent."
Governor Davis reminded: "Ultimately, Gibraltar's cyberspace enterprise will only realise its full potential if we transform our individual and collective security behaviours, institutional security culture and social security responsibility in tandem with the game-changing technological advances that are now so profoundly apparent."
How do you
erase borders
and create global
opportunity?
Find out how international tax and operations insights helped a company grow from local to global.
Contact Neil Rumford neil.rumford@gi.ey.com +350 200 13 200 ey.com/gi ey.com/acceleratinggrowth #BetterQuestions
www.gibraltarinternational.com
Gibraltar International	25
© 2015 EYGM Limited. All Rights Reserved. ED None.