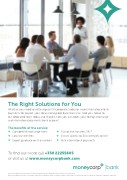 The Right Solutions for You
Whether you need to settle regular FX corporate trades or make international bulk payments for payroll, your local moneycorp bank team can help you. Speak to our dedicated team today and find out how you can open your foreign exchange and international payments bank account.
The benefits of the service:
Competitive exchange rates Low transfer fees Expert guidance on the markets
Fast online transfers 24/7 Instant access to 34 currencies online Bulk international payments
To find out more call +350 22255605 or visit us at www.moneycorpbank.com
Moneycorp Bank Limited is authorised and regulated by the Gibraltar Financial Services Commission. Moneycorp Bank Limited is a company registered in Gibraltar under company number 113151 with its registered office at 7/b King's Yard Lane, Gibraltar, GX11 1AA.