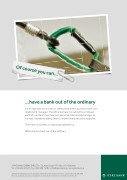 ... have a bank out of the ordinary
It's is important to us that our clients have direct access to their own relationship manager. Therefore we have no call centres. Instead, each of our clients has their own personal relationship manager to contact, thereby enabling them to make timely decisions together.
There are no barriers or obstacles between us. Welcome to a bank out of the ordinary.
JYSKE BANK (GIBRALTAR) LTD. • 76, Main Street • P.O. Box 143 • Gibraltar Tel. +350 606 33322 • Fax +350 200 76782 • info@jyskebank.gi • www.jyskebank.gi
Jyske Bank (Gibraltar) Ltd. is licensed by the Financial Services Commission, Licence No. FSC 001 00B. Services and products are not available to everybody, for instance not to residents of the US.
Of course you can...